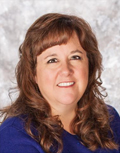 Broker
P: 406-261-6809
Email Teri
Greetings! If you have arrived here, then you might be interested in buying or selling Montana real estate, or perhaps looking for Flathead Valley area market information. I have experience in relocation, new construction, land, recreation, waterfront and estate sale properties. I would be glad to help!
Buyers: log in to my listing portal where you can search and save listings here: http://my.flexmls.com/teri
A native Montanan and Flathead Valley real estate broker based in Kalispell, I happily discovered NW Montana with the aid of my parents who chose to move our family in the summer of 1975 from Billings. We spent a lot of time with our Real Estate Broker viewing homes in the growing Kalispell area. There began my interest in housing. I like to think I had some say in the whole matter!
In 1980, I began my career in the local real estate industry and purchased my first home in 1982 with my late husband, Al. I am proud to have owned a home for nearly my entire adult life (I only rented for 11 months total!) I have been with Montana Brokers since the company was created in 1986. 30 years. I experienced working in a real estate office as a high school student where I continued to enthusiastically absorb, learn and assist in the many facets of real estate brokerage operations as office/ad/web manager and assisting seasoned brokers in their growing businesses. I truly learned the business inside and out. I have been licensed to sell real estate since early 1999. Today, I enjoy guiding buyers and sellers in the complexities of real estate transactions.
My leisure time is spent enjoying camping trips and excursions with friends and family exploring the scenic back country of NW Montana. Close to my heart are my 3 grown children and my 3 grandchildren.
Please feel free to contact me anytime at (406) 758-4743 or Email teri@centurytel.net
Want listing notifications? Curious? Interested? Ask me for more details on any area listing or visit my portal link below where you can search and save listings